Products of Submerged Hollow Fiber Composite Membrane
Hollow Fiber Composite Membrane Module
CleanFLUX submerged membrane module consists of units of hollow fiber membrane, collecting parts and collecting nozzles.
CleanFLUX is designed the hollow fiber membrane to be integrated to the module head in slim type to maximize the fluidity.
CleanFlux is designed to minimize the fouling of the membrane surface by maximizing the fluidity of the air bubbles.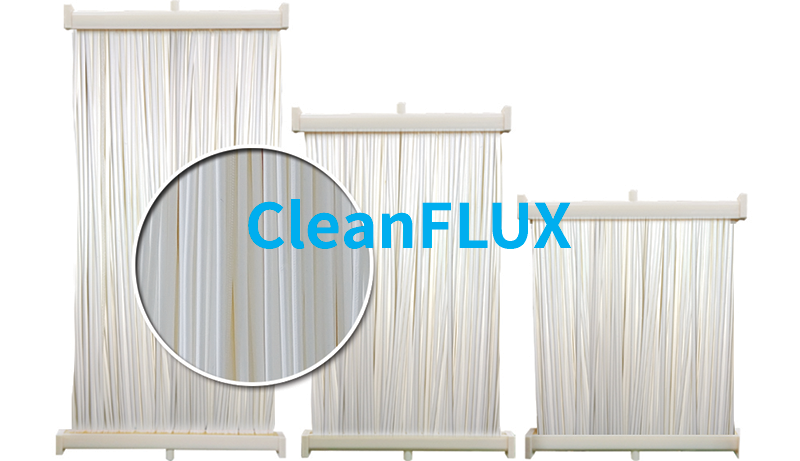 Module Specifications
Membrane surface area
14 ㎡ / module
Flux
0.4~0.6 ㎥/㎡·day
Dimension
640(W)ⅹ790(H)ⅹ50(D)
640(W)ⅹ1,080(H)ⅹ50(D)
640(W)ⅹ1,507(H)ⅹ50(D)
Material of Module
ABS
Net Weight
4 Kg
Sealant
Polyurethane, Epoxy

Operating conditions
Operation cycle
Suction-(Backwash)-idle-suction
Operation method
Outside pressure suction filtration(outside-in)
Operation temp
< 60℃
Operation pressure
5~40 cmHg (0.01 ~ 0.06 MPa)
Operation pH
2~11
MLSS
3,000 ~15,000 mg/L
Cleaning
Backwash, air diffuser, chemical or physical
Specifications of Hollow Fiber Composite Membrane Module Frame
Characteristics of Hollow Fiber Composite Membrane Module Frame
Can submerge to aeration tank directly.
Keep stable permeation for long time.
Easy to replace, clean & maintain.
Excellent sludge removal of the membrane surface.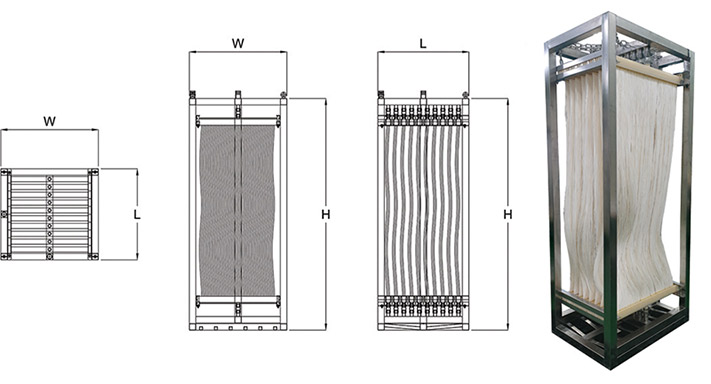 | Model | Dimension (mm) | Capacity (㎥/day) |
| --- | --- | --- |
| CleanFLUX-F10A | 730(W) X 280(L) X 1,700(H) | 6 |
| CleanFLUX-F50A | 730(W) X 330(L) X 1,700(H) | 30 |
| CleanFLUX-F90A | 750(W) X 550(L) X 1,730(H) | 54 |
| CleanFLUX-F100A | 750(W) X 600(L) X 1,730(H) | 60 |
| CleanFLUX-F120A | 750(W) X 700(L) X 1,730(H) | 72 |
| CleanFLUX-F140A | 750(W) X 800(L) X 1,730(H) | 84 |
| CleanFLUX-F150A | 750(W) X 850(L) X 1,730(H) | 90 |
| CleanFLUX-F170A | 750(W) X 950(L) X 1,730(H) | 102 |
| CleanFLUX-F190A | 750(W) X 1,050(L) X 1,730(H) | 114 |
| CleanFLUX-F200A | 750(W) X 1,100(L) X 1,730(H) | 120 |